RULES AND SECURITY ADVICE
Our security arrangements consist of a variety of measures and procedures developed, which are coordinated and implemented in conjunction with the police and the responsible authorities. We have also exchanged ideas and procedures with other festivals and coordinated our approaches.
However, we also need the help of all patrons. The better festival patrons observe the rules and requirements, the more efficiently, quickly and effectively controls can be carried out at the entry points to the festival site. Please ensure that you observe our detailed security and safety advice.
SECURITY CHECKS
On entry to the festival site, a search (body check) for prohibited items is conducted on all people.

You will find more information about permitted and prohibited items here and in our house rules for the festival site.

We have created a video with general behavioural instructions, regulations for emergencies and regulations for filling the front of stage areas.

You can find the safety video here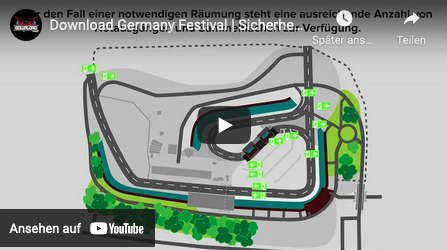 ---
BAGS
Apart from personal clothing, the only items permitted for carrying personal belongings onto the festival site are belt and bum bags, small handbags which do not exceed DIN A4 in size, as well as bags, backpacks made of clear plastic, clear vinyl or clear PVC, with a maximum size of 44cm high x 37cm wide x 30cm tall are allowed.
NO EXCEPTIONS WILL BE MADE FROM THE ABOVE RULES.
Please understand that these measures will be enforcedfor everybody's protection.They will helpto carry outthorough entry controls and body checks. We would also like to ask patrons to arrive at the gates in a timely fashion to avoid long waiting times.
---
FOOD & BEVERAGES
You can bring empty collapsible drink bottles (size: 500ml) to the festival site. There are free-of-charge drinking-water taps available on the festival site. You can refill your foldable drink bottles there. Bringing your own drinks and food onto the event site is forbidden.
---
PERMITTED ITEMS
Wallet / purse
Keys
Small belt pouches and bum bags
Small handbags which do not exceed DIN A4 in size
Bags made of clear plastic, clear vinyl or clear PVC, which do not exceed 44cm high x 37cm wide x 30cm tall in size
Mobile telephones
Empty, foldable drink bottles
Single-use cameras
Pocket cameras
Small necklaces
Small power banks
Hand disinfectant which does not exceed 50 ml in volume
---
PROHIBITED ITEMS
Among others prohibited items include:
Any bags and any rucksacks / backpacks except permitted bags (see permitted item)
Food, drinks and fluids of any kind
Helmets, masks, disguises (except for commercially customary face masks for hygienic purposes)
Firearms, cutting, stabbing and other weapons of all types
Saws, axes, hatchets, and similar tools
Fireworks, sparklers, and other pyrotechnic items of any kind (incl. bengal lights)
Chairs, seating furniture and seating (e.g. polystyrene cubes)
RECORDING DEVICES: Professional sound, photographic and video equipment is prohibited
Notebooks, tablets and other computers
Laser pointers
Bulky items of all types e.g. ladders, chairs, flagpoles, umbrellas, camping equipment, selfie sticks
Drugs of any kind
Glascontainers, gas, aerosols, deodorant sprays, hairspray
Drums, vuvuzelas and/or other mechanical or electronic devices to make noise
Spiked bracelets, large chains, wallet chains, collars
Inline skates, rollerblades, skateboards
Bicycles, stroller
Any materials which are or may be racist, threatening, harassing, degrading, hateful or intimidating, defamatory, fraudulent or tortious, obscene, indecent, pornographic or otherwise objectionable
---
PROHIBITION OF ENDANGERING OTHER ATTENDEES
Any endangerment of other patrons – particularly from "crowd surfing", "circle/wall of death", "pogo dancing" or lighting fireworks (incl. bengal lights) – is strictly prohibited and will result in exclusion from the event.
---
IF YOU SEE SOMETHING SAY SOMETHING
All patrons are asked to be highly attentive and vigilant. If you notice anything suspicious, please inform security staff or the police immediately.
---
EMERGENCIES AND FIRE
In the event of any medical or other emergencies and if you discover a fire, please immediately inform nearby security staff. They have a radio link to our control centre and can arrange assistance for you as quickly as possible. If there are no security staff nearby, please call 110 or 112 directly!
---
INFORMATION
We will use the following media to keep you informed about weather developments and any necessary emergency procedures:
---